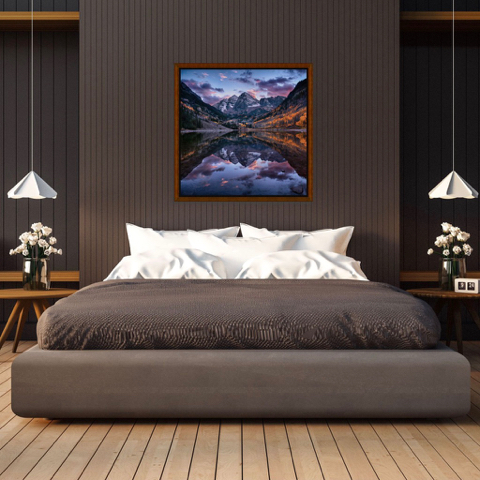 Ordering
Please call 303-941-2242 or send an email to jt@josephthomasimages.com with your name, phone number, and the image titles that interest you. I will contact you as soon as possible with size options and pricing.
Fine Art Printing
Beautiful museum quality archival prints of all images on this site are available for purchase. If you like what you see on your computer monitor (which is almost certainly improperly calibrated, i.e., too bright and too blue with either under-saturated or over-saturated colors), I promise you'll be overwhelmed by the vibrant color, sharpness, and detail of the actual fine art prints.
All prints, are produced using state of the art LightJet digital processing. This technology uses red, blue, and green lasers that travel directly over the printing material. With a mind-numbing palate of 68.7 billion colors, LightJet can render each point on the photograph with supreme accuracy. Subtle gradations are represented smoothly and naturally in shades that are extraordinarily deep and rich. The resulting product is a continuous tone, true photographic print without the visible dot pattern or inks that can smudge and fade as with inkjet prints.
The other vital component in producing stunning fine art prints is the paper. Fuji Crystal Archive paper is designed for unsurpassed color fidelity and longevity with a quality lifetime of 100 years or longer. It provides deep, rich blacks and vivid colors, as well as brilliant whites with clear and expressive highlight details. Excellent contrast and gradation balance allow for a rich tonal scale and unbiased grays from highlight to shadow.
Dimensions and size options vary for each image due to aesthetic cropping considerations and file size. I will only print a given image as large as can be achieved with absolute top-quality, professional results. You will want to choose a print size that is appropriate for the space it will occupy. Generally speaking though, the larger the print size, the more powerful the emotional impact will be on the viewer. Indeed, the largest sizes can become the centerpiece of a room's decor.
All images originate as either 21-megapixel digital captures in the 35mm format, or as 35mm slide film capture which was then converted to digital via 100 megabyte high resolution drum scans. Images are sold as hand-signed open edition.
Gallery Box Mounting maximum color, minimum glare, contemporary styling
Gallery box mounting is an alternative to traditional framing that gives images a clean contemporary look.  The print is mounted on a 3/16 inch high density wood substrate and sealed with a matte finish vinyl laminate that is heat pressed to the print and finished with a black beveled edge. This is then mounted seamlessly to a 1" thick black frame. The final product is a durable UV, water, and fingerprint resistant image with a 1-3/16"-thick black beveled frame that hangs flush against the wall. The non-glare properties of Gallery Box mounting allow for clear viewing and vivid colors from all angles regardless of lighting conditions.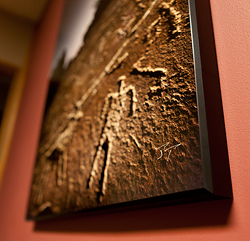 Gallery Stack Mounting maximum color, minimum glare, contemporary styling
Similar to the gallery box mounting, but with the print on a 3/8-inch thick beveled plaque with an optional stained wood border mounted to a 3/8-inch thick plaque that provides a 2-inch black border around the print.
Aluminum Stack Mounting cosmopolitan styling, maximum color, minimum glare
The print is mounted on a 3/8 inch high density wood and finished with a matte finish vynal laminate that is heat pressed to the print and finished with a black beveled edge. This is then stacked onto a swirl textured aluminum back plaque that floats off the wall. The result is beautiful, durable, and sophisticated.
StonePlaq
This real slate stone option is water resistant and can be used outdoors.  A stone border is displayed around the image creating an organic stone feel to compliment any image.  StonePlaq comes with sawtooth hanger(s) for flush wall mounting.   Four stone color options available to compliment any image and decor. Click here to see all of my images that are available in the StonePlaq option: StonePlaq Options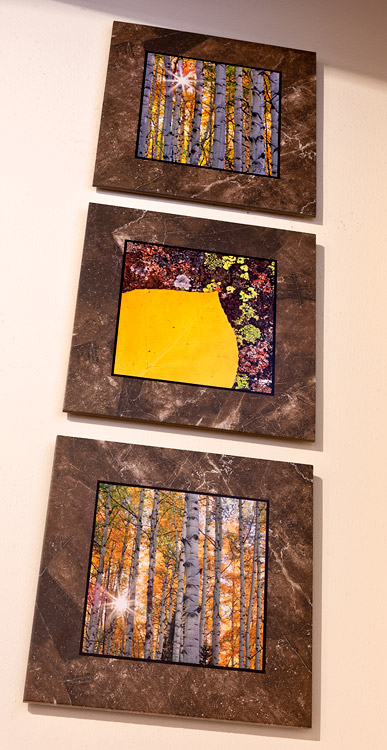 Framing
I do not offer traditional matting and framing at this time. With so many matting and framing options, it is better to order prints only and have archival matting and framing done by a local professional. This allows you to choose mats and frames that match your personal taste and decor.
Quality Guarantee
I offer a 100% satisfaction guarantee. If for any reason you are not happy with your purchase, you may return it within 14 days of receiving it for a full refund. Return shipping will not be refunded.
In the unlikely event a print is damaged in transit, I will replace it at no charge.
Testimonials
"After installing your beautiful photograph of the Great Sand Dunes in our home, all of our other artwork pales in comparison. We now have to go out and replace everything else we own!" - Devin M., Denver, Colorado
"Your photograph of 'Catch a Falling Star' looks even more spectacular than I had imagined and it works perfectly in the space I bought it for. Thank you for getting it made and shipped so quickly. It's been a pleasure working with you." - Paul M., Salt Lake City, Utah
"Thank you so much! We love both of your stunning pieces and they will serve as a permanent reminder of our time spent in Colorado." - Jeremy A., London, UK
"When we designed the house we went for warm colors and a rustic feel, so the water and mountains of 'Lake Isabelle Panorama' blend perfectly and add a sense of calmness to the space. Friends have had only positive things to say and are all impressed with the vivid colors!" - E. M., Highlands Ranch, Colorado